The history of Alpha Kappa Alpha is a story of service to an ideal. It is a story of change, of growth, and of never-failing effort to meet challenges as they are perceived. Since its founding on January 15, 1908, Alpha Kappa Alpha has dedicated itself to high standards, to relationships of significance, and to productivity. As the sorority continues to grow, its members have added to the personal satisfaction that comes from working cooperatively with women who also yearn for and are willing to strive to attain a more abundant life.
As the Sorority moves beyond its Centennial, and continues to experience growth, its experiences will be retold and must be supported. The story is neither complete nor ended because the Alpha Kappa Alpha experience is alive and growing. Alpha Kappa Alpha women still come together in love. They stay together to try. They continue to strive for more commitment to excellence, richer expressions of love, and more rewarding service.
And their story is "to be continued."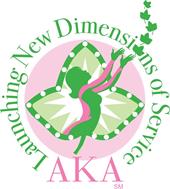 Launching New Dimensions Of Service
Signature Program Initiatives
II. Health Promotion
III. Family Strengthening
IV. Environmental Ownership
V. Global Impact
For more information, please visit our international website at www.aka1908.com/.