The motivating and stirring force in the chartering of Iota Gamma Omega chapter was North Atlantic Regional Director, Esther Pollard. Regional Director  Pollard revealed to the pioneering ladies her personal dream of expanding Alpha Kappa Alpha by organizing chapters in each county circling the Capital Beltway of Metropolitan Washington, D.C.
With the strong and compassionate leadership and the constant encouragement of Regional Director Pollard, " the founding five" (Ertie Barnes, Barbara Billups Seaforth, Theatrice Davis, Susan Trent and Sarah Wooten) met with Regional Director Pollard to discuss the possibility of establishing a chapter in Prince George's County, Maryland, on October 24, 1969. Thus the stage was set for using the talents and strengths of these women to benefit humankind in Prince George's County, Maryland.
Iota Gamma Omega Chapter was chartered on November 14, 1970. The ceremony was held at the Colony 7 Motel in Laurel, Maryland. Anne Mitchum Davis, North Atlantic Regional Director, presided. A "vision fair had been captured" as twenty-four Alpha Kappa Alpha women participated in the chartering ceremony.
Charter Members
*Ivy Beyond the Wall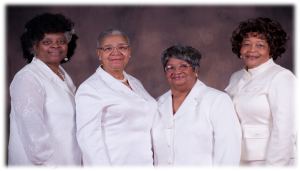 Venda Jennings *
Elenda Jones *
Cenetta Lee
Alice Luckey
Carole Jamison Parrish
Doris Sensabaugh
Dessie Smith *
Mary Ray Thompson *
Susan Trent
Trevious Coleman Watts *
Sarah Wise Wooten *
Rose Wynn
Ertie Barnes*
Erma Barron
Barbara Billups Seaforth
Annette Stone Blake
Hazel H. Carter
Joyce B. Clark
Theatrice B. Davis
Charlotte N. Dension *
Ella Edwards
Myrtle Fentress *
Cathine Garner Gilchrist
Charline Yvonne Lewis Jacob
 Former Chapter Presidents
*Ivy Beyond the Wall
1970-1975: Sarah Wise Wooten*
1976-1979: Ertie F. Barnes*
1980-1983: Mary Ray Thompson*
1984-1987: Erma W. Barron
1988-1989: Louise L. Brown
1990-1993: Oretha Bridgewaters
1994-1997: Gloria McCollum
1998-2001: Cheryl Petty Garnette
2002-2005: Carolyn N. Pinckney
2006-2009: Kathy Keys Waymmann
2010-2013: Ingrid S. Harrison
2014-2017: Saran T. Baker
2018-2019: Deidre N. Jackson